Cyber Green LLC
Electronics Recycling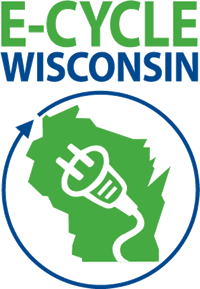 Profile from the Green Bay Press Gazette Published May 30, 2011
What is your business?
Cyber Green, recycling your world, saving our planet one piece at a time. We are a company that recycles just about anything with a plug.
Q. What are your backgrounds (briefly)?
Seeing that Linda is an interior decorator and Jim owns Cyber Works it may seem surprising being in this joint venture. We both studied at UWGB which has always focused on ecology. We have been recycling long before it became the in thing to do. Now going green is necessary for our environment to sustain itself. Since Jim works with technology, people continually asked what to do with old computers. While discussing this over dinner Linda simply asked him why not take the equipment and recycle everything. After our first event in July, 2010 we decided to start a company to handle all the electronic recycling needs. Cyber Green was born.
Q. How do you make money recycling electronics?
By taking the donated electronics and de-manufacturing (taking stuff apart) each piece into its base components. These parts are then sorted by their raw materials content. Some we have to pay to get rid of some we are paid for. All materials go to various recyclers in Wisconsin.
Q. Where do you send your collections?
There are several certified recyclers' in the state. By dealing with reputable companies we ensure that all materials are properly handled and recycled. Different components go to different recyclers.
Q. What has been the response so far?
Phenomenal, it far exceeds our expectation. People have been incredibly grateful for the opportunity to do the right thing.
Q. Do you work with non-business groups on collections?
Most of our collections come from the general public; of course we do collect from businesses. Once the word is out about an event people clean their basements, closets and garages. We end up with several semi trailer loads at most events.
Our favorite events are the ones with nonprofit organizations. We donate a portion of any proceeds back to the charity. We also hold events at local business to showcase their support of going green.
Q. What are your long-range plans for the business?
Right now we have recycled over 100,000 pounds of electronic waste. Our goal is to recycle over 1,000,000 pounds of electronic waste and in doing so give more back to the community. Both in donations and making our community green.
Business contact: Jim Overly
Business name: Cyber Green
Your name: Jim Overly, Linda Hansen
Hours: 8-6
Telephone: 920-246-7143
Email: recycle@cybergreenllc.com
Address: 844 Willard Dr. , Cyber Works. Green Bay West.